Can one STR (short term rental) make a difference?
To a small river town like Columbia, PA – the impact of one business that brings visitors into town can have a ripple effect among the community.
Such has proven to the be case for the Freedom Home.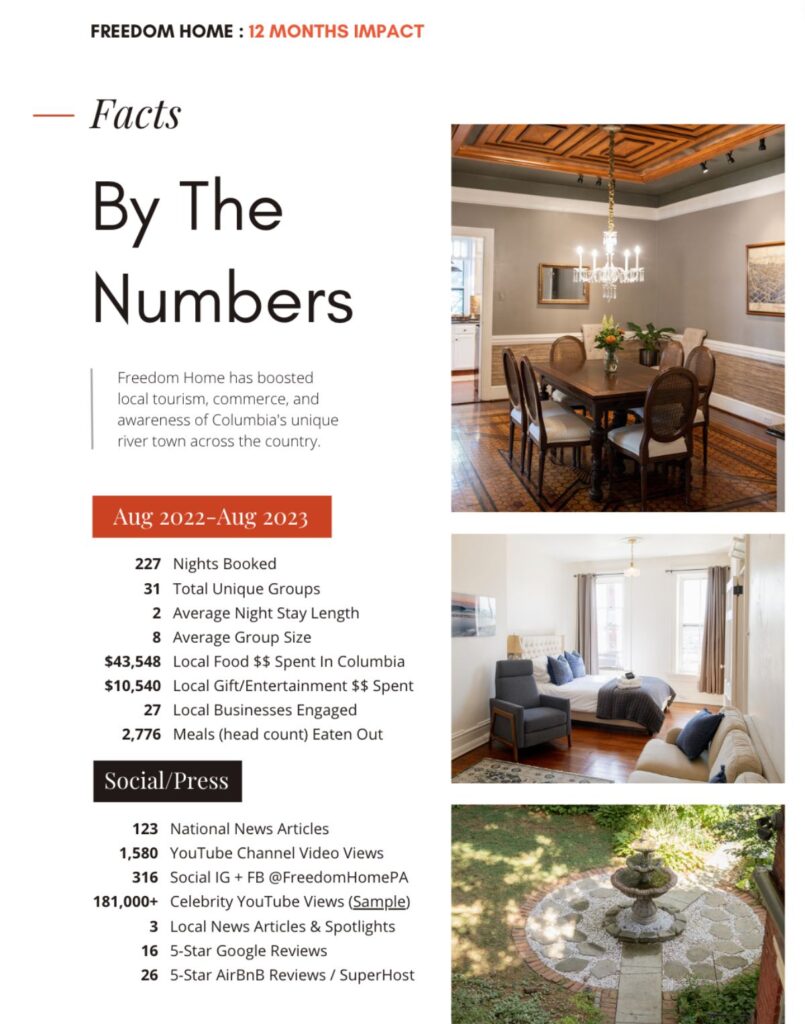 Freedom Home is a historic 1876 civil-war-era 3,300 SF home that boasts 14 rooms and sleeps up to 10 guests. Over the course of its first year in business operating as an STR on the AirBnB platform, it has brought guests from all across the United States (and England!) through its doors. From family post-covid reunions, to wedding guests gathering at Lauxmont Farms or Cameron Estates, to traveling athletes visiting Spooky Nook, and just curious adventurers – the feedback has been amazing.
Guests can now direct book and save on platform fees and get cheaper rates at FreedomHomePA.com as well.


Impact on Columbia, PA on YouTube
YouTube is the second most used search engine on the planet – 2nd to Google.
Just one year ago, when you searched "Columbia PA" on YouTube, you were shown a video of someone driving through our town in sections of the town that were struggling as they commented on its run down facades and poor appearance.
While every small town has places that are not as far along as others in facades, home care, street maintenance or appearance – the reality is that our definition is not 'what we are not' but rather 'who we are.'
Follow our YouTube channel as we grow!
Our efforts to shape the expectations and conversations about Columbia, PA to those seeking to visit, plant a business, establish their home, or just to come and enjoy a hike or a business meeting on the road all begin with the story we tell.
Perceptions are ones reality unless they are shaped by new experiences.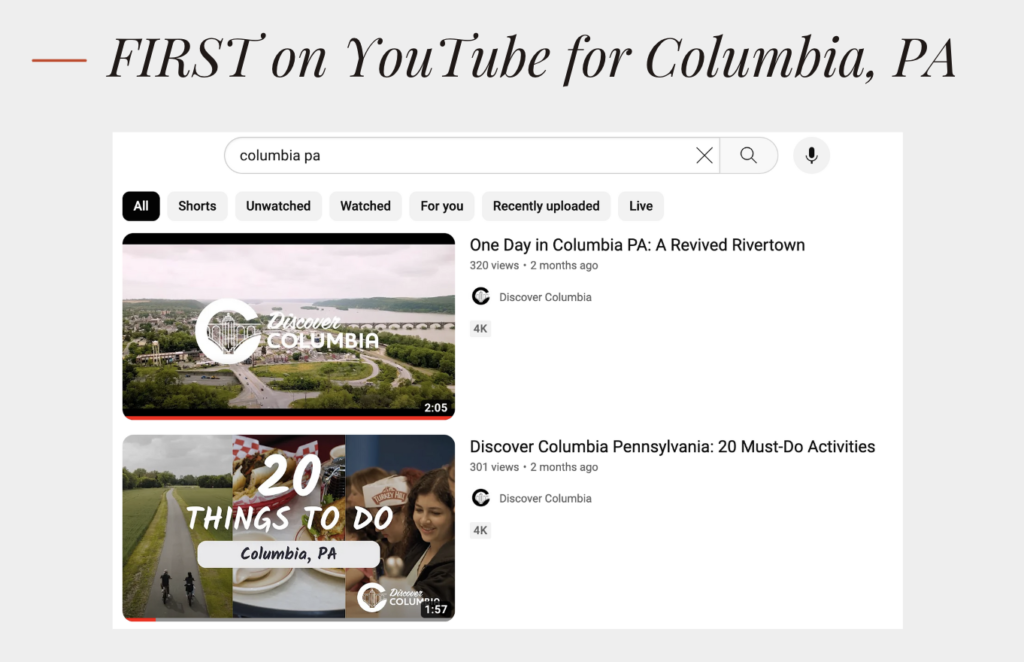 Here is a recent "20 Things To Do" Video we produced:
Tourist and Visitor Feedback
When visitors come to Columbia, PA and stay at Freedom Home, they always leave notes about how surprised they were at the charm, views, diversity of businesses and experiences, and their love of the small town vibe.
While they don't tend to stay for a week at a time (yet), their time in our town leaves a great impression on them which (accordingly to their posts and shares on IG, FB and TikTok) causes more people to consider visiting!
Making The News
At Discover Columbia, we also make a point to share all the good things going on with the world via online, print, and social distribution channels.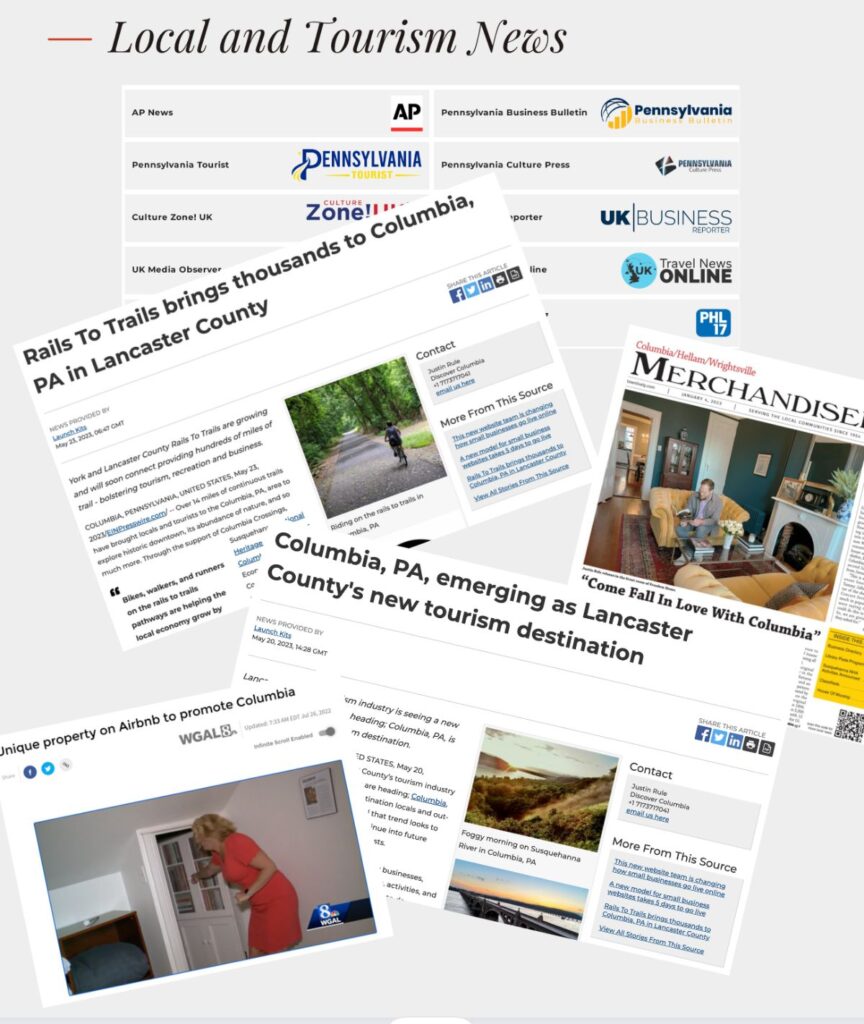 So our re-investment of proceeds from Freedom Home into producing video, photo, and social content creation online seeks to spread the awareness of all the businesses that make our town a great destination for friends and family to gather together.
As we continue to write and promote articles online, invest in video promotions, and create engaging visual representations of Columbia on merch and print materials, we are seeking to both define and introduce our river town to the world.
Perceptions are ones reality unless they are shaped by new experiences.

Justin Rule, Founder of Discover Columbia / Owner of Freedom Home
$208 per guest of economic impact
In September of 2023, after hosting visitors to our region for 12 full months (August 2022 – August 2023), we were able to expose over 70 families, 250 individuals, with a total spend at local shops, eateries, and experiences being approximately $54,088 – which is an average additional revenue of +$208 per guest to our local downtown economy.
(Download the full PDF Report of Freedom Home's Economic Impact for 12 months.)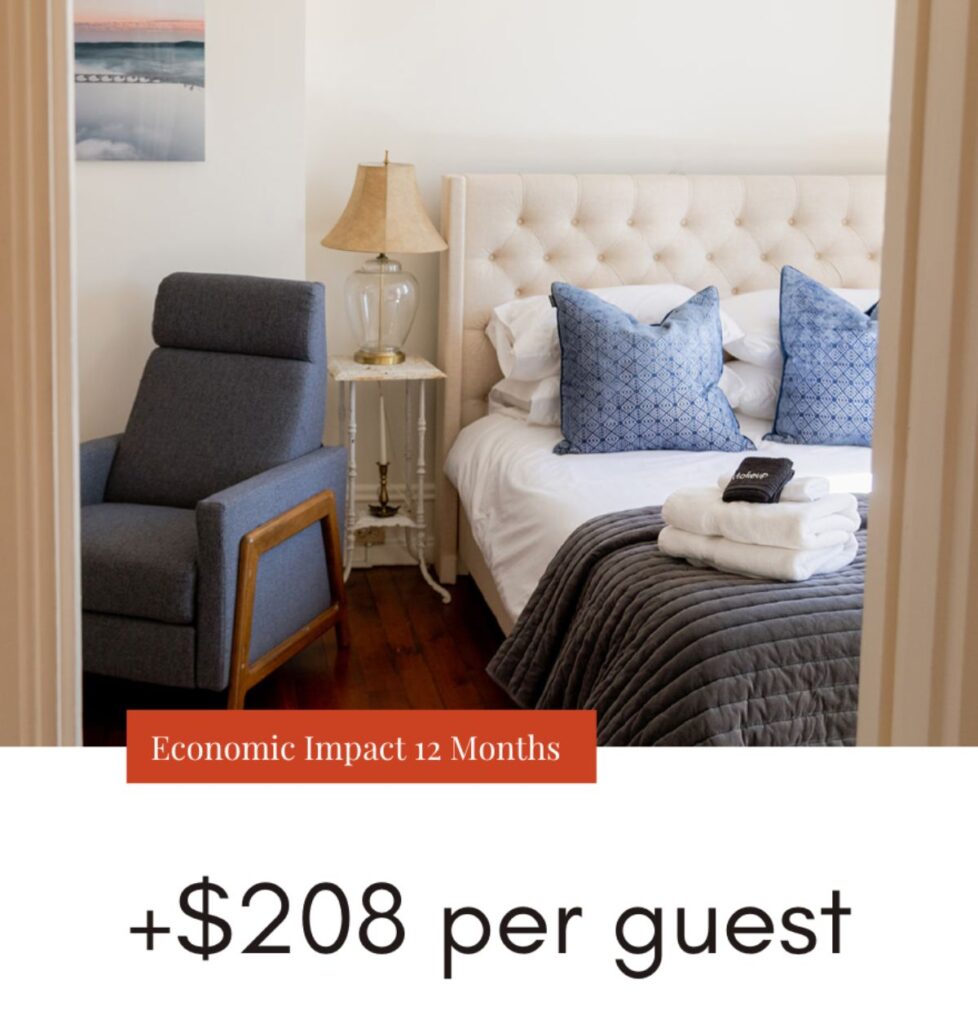 To view the full report of the Economic Impact of Freedom Home on Columbia, PA, click the link below.