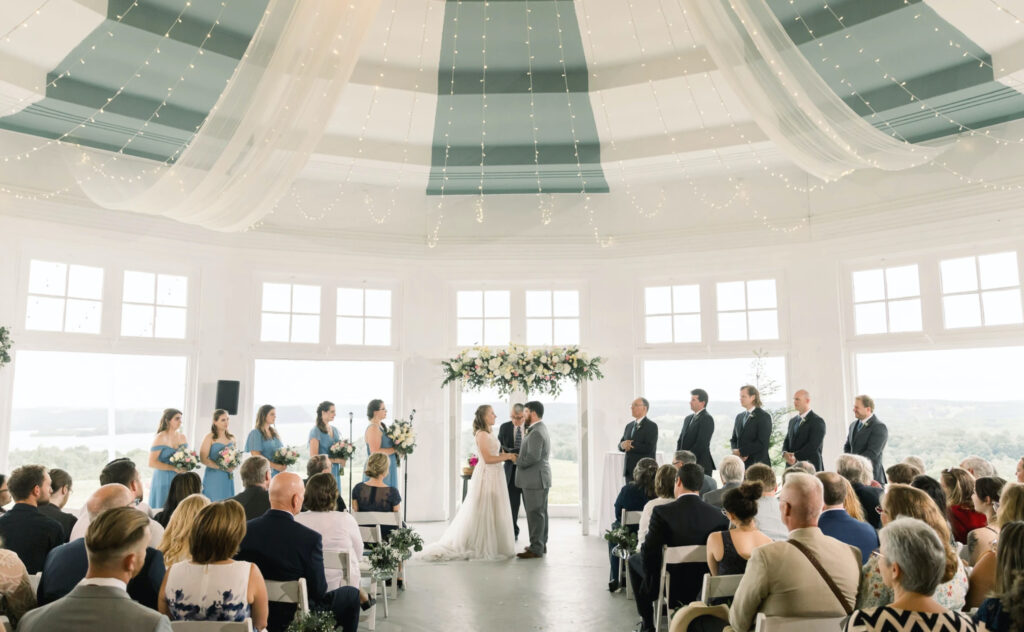 Just a few miles across the river from historic downtown Columbia, is a wedding venue known for its hilltop views and beautiful horse farm. Locals and out-of-towners alike choose Lauxmont Farms to celebrate their special day.
If you are planning a wedding at Lauxmont Farms, you should consider where your guests will stay either the night before or the night of the wedding. Providing accommodation suggestions is a thoughtful way to care for your wedding attendees.
Columbia has a few places to stay that would be wonderful suggestions for your guests.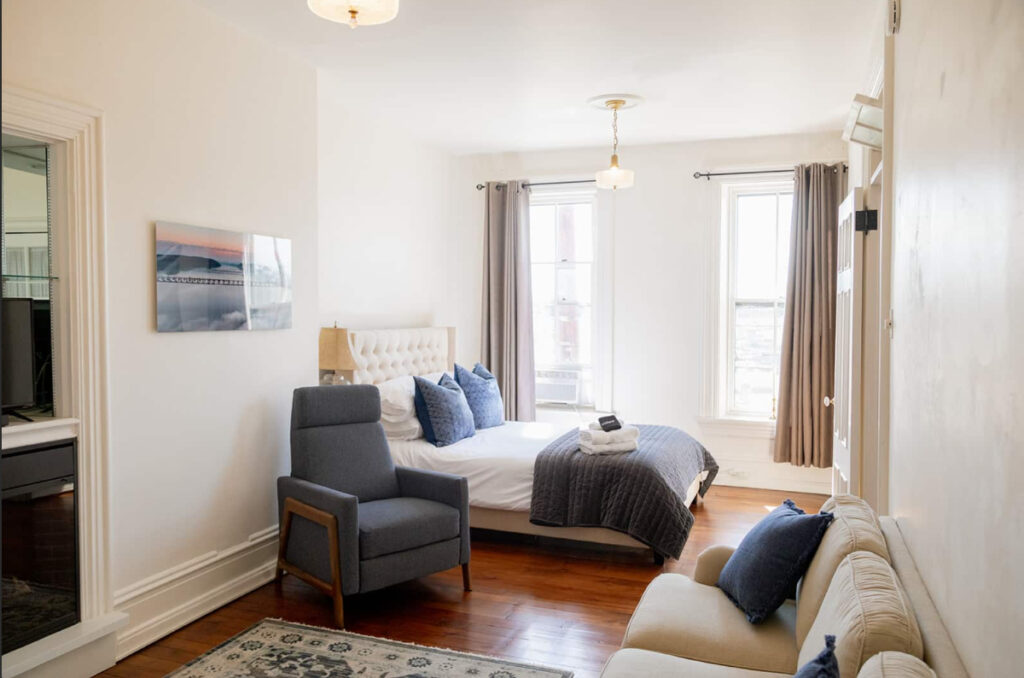 Freedom Home is a vacation rental in Columbia, PA that boasts a rich history, spacious rooms, beautiful architecture, and plenty of space to gather with a large group. For this reason, it's a perfect choice for wedding parties.
Bridal parties will enjoy the beautiful architecture that photographs well for getting ready photos. And if you prefer to get ready elsewhere, Freedom Home is still a perfect spot for families to stay together under the same roof while celebrating the big day.
Guests will enjoy that Freedom Home is walkable to the attractions of downtown Columbia like breakfast spots, coffee shops, breweries, hiking trails, historic landmarks, and shopping.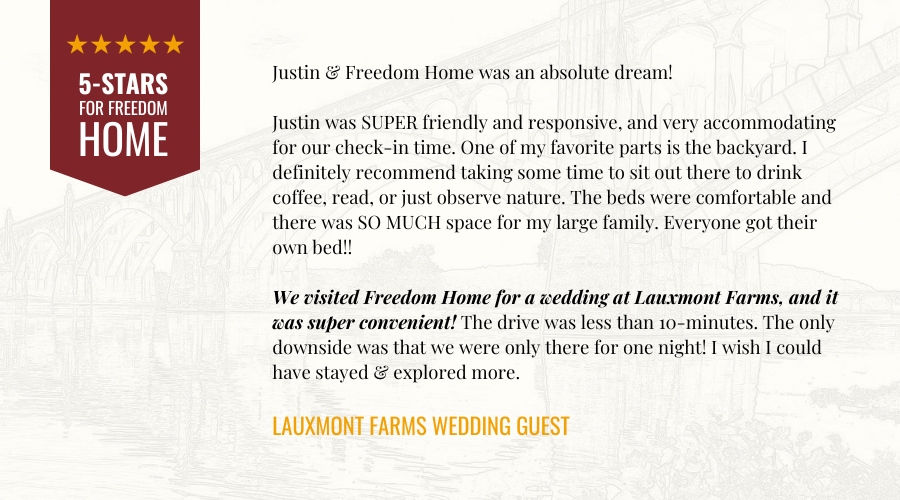 WEDDING GUESTS FAVORITE FEATURES
Entire vacation home rental that sleeps up to 10 people
Full kitchen and spacious gathering space
Private outdoor space
Historic building that was a part of underground railroad
View the Freedom Home Website and Book Now for your Lauxmont Farm wedding weekend.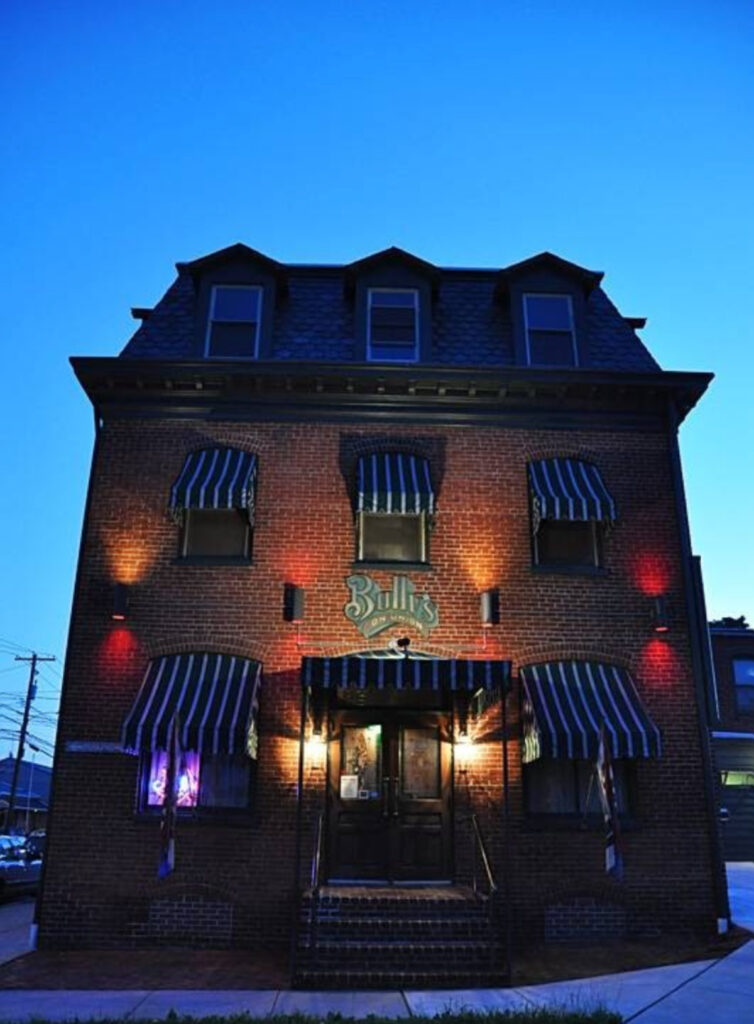 The Inn at Bully's has a history that dates back to 1903. For over 100 years this establishment has been a place where visitors can eat and stay in the town of Columbia. For wedding guests celebrating at Lauxmont Farms, The Inn at Bully's is a great nearby option for staying overnight.
With 11 renovated guest rooms, The Inn at Bully's offers visitors a private space to stay with historic charm, private bathrooms, and a Continental breakfast.
WEDDING GUESTS FAVORITE FEATURES
Restaurant & bar onsite
Multiple room options
Historic tavern with restored charm

Offer The Inn at Bully's to your wedding guests for a cozy downtown accommodation option. Book Now
If your guests decide not to stay the night, they may still want to get a taste of what Columbia has to offer. Let them know they can explore the downtown attractions, river trails, and historic sites.