Columbia is a vibrant place overflowing with captivating and exciting opportunities – from biking along the river trail, to paddling along the Susquehanna, to hiking Chickies Rock, to taking a walk and venturing into the remarkable history of Columbia. All of these things have to start somewhere, so why not start with a delicious breakfast from one of Columbia's best breakfast spots!
Hinkles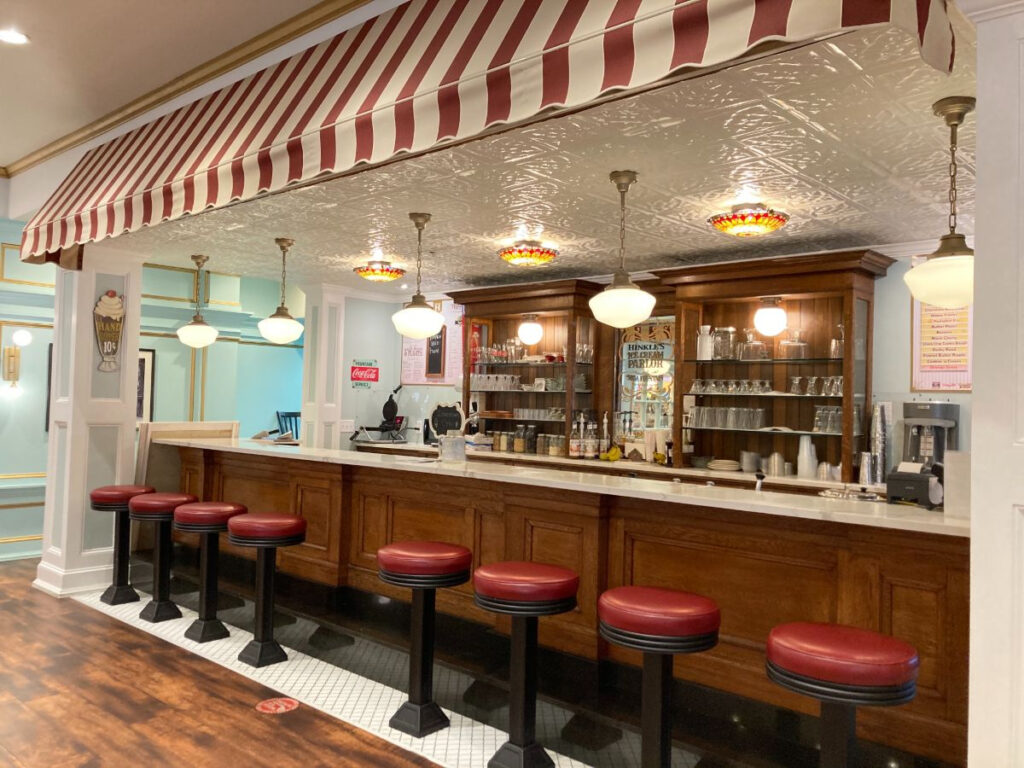 What was once the historic Schroeder & Hinkle Pharmacy, is now the delicious Hinkle's Restaurant. It's also the place in Columbia where you can have hash browns made with freshly peeled potatoes and Hinkle's legendary cinnamon raisin French toast all in the same meal. Some featured items on their menu include The Cheese Steak Omelet, made with tender sliced beef, onion, American cheese and tomato sauce. Also on their menu is the waffle Sunday made with a fresh waffle, two scoops of ice cream, two toppings of your choice, whipped cream, and a cherry on top. Who doesn't love dessert for breakfast?!
Recent Review: "This place is so awesome. It has a nice open layout, the tables are a nice distance away from each other. The food is great and the service is wonderful. They also have a shop called Murphys Mercantile where they have lots of unique gifts for everyone on your list, including plants! They also have candies and an ice cream parlor. Definitely coming back!!!!" – Christina L.
Hours:
Mon-Closed
Tues-Fri – 7AM-7PM
Sat – 7AM-6:30PM
Sunday – 8AM – 2PM
HomeGoodies & Coffee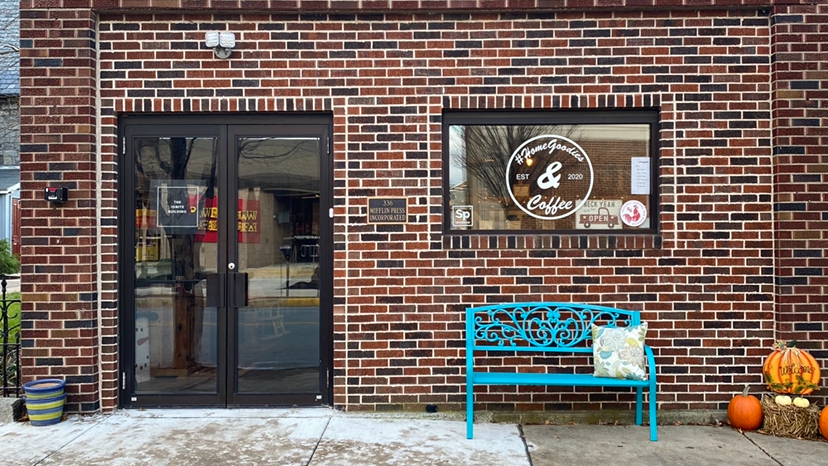 Have you ever been hungry for a really good bagel but what the grocery store offers just doesn't quench your insatiable desire for an authentic New York/New Jersey style bagel? Well do I have news for you – HomeGoodies & Coffee has their Bagels shipped fresh directly from New Jersey to take care of all of your heart's bagel and bagel sandwich desires.
Besides bagels, HomeGoodies & Coffee offers delicious coffee, baked goods, and lovely home decor for purchase. Two of their most popular menu items are the Burning Bridge and the Albatwitch. The Burning Bridge is named after the historic burning of the Columbia-Wrightsville bridge during the civil war as an effort to stop the confederates from invading Lancaster. The sandwich is made with bacon, egg, cheddar cheese, muenster cheese, avocado, and Sriracha Yuzu Mayo all on a bagel of your choosing. The Albatwitch gets its name from the local Columbia Cryptid which is said to have been a small four foot, Sasquatch-like creature that would hide in trees and steal apples. The sandwich is made with bacon, sausage, hash brown, egg, and cheese on your choice of bagel. Come to HomeGoodies & Coffee and have Columbia's best bagels!
Recent Review: "I had breakfast here today. Food was VERY good. Menu is great and staff was very friendly. You must try this place!! Great coffee too!!!" – Dave L.
Hours:
Mon – Fri: 7AM-2PM
Sat: 8AM-2PM
Sun: Closed
Prince Street Cafe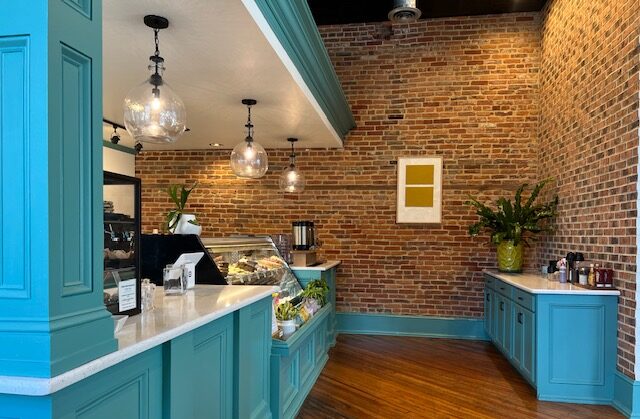 When people think of Prince Street Cafe they might think of Lancaster City. But did you know Columbia has its very own Prince Street Cafe location? Prince Street Cafe is an always reliable place for coffee, good eats, and a relaxed atmosphere with a wide variety of food that is sure to have you coming back for more. Prince Street always has new and exciting things on the menu, some of their most popular items include their legendary Home Fry Bowl, Peanut Butter & Berry Acai bowl, Sweet & Savory B.E.C Sandwich, and their Famous Baked Oatmeal. They have new featured specials like a coconut matcha, lemon oat bars, blackberry swirl cheesecake bars, mango salmon bowls, and what I'm most excited about, homemade strawberry rhubarb pop tarts.
Recent Review: "It is so nice to have Prince St Cafe so close to my home now. This most definitely will be my goto place for great coffee, food and great atmosphere. Everything from the menu to the decor shows that the owners and employees at Prince St know what they're doing and I really appreciate it. Keep up the great work, I hope to be a customer for many years to come!" – Dan H
Hours:
7AM – 3PM all week
The Golden Whisk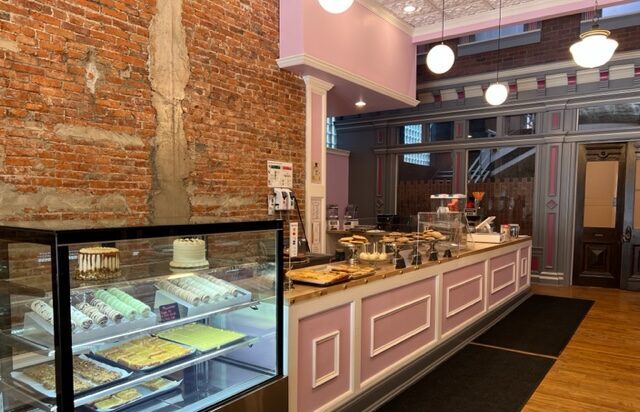 Welcoming the newest member of the Columbia Breakfast Club, The Golden Whisk. The Golden Whisk currently offers an exquisite selection of pastries and recently started offering a delicious selection of breakfast items. We're talking sausage egg and cheese croissants, ham and cheese croissants, quiches, laminated pastries like chocolate croissants and much more. The native Alabamian brother and sister duo that run The Golden Whisk will also begin introducing some mouthwatering southern influenced recipes very soon, so stay tuned!
Recent Review: "Oh my, the Pecan Pie Cheesecake bar is so delicious. Wonderful Oatmeal cookies and really enjoyed the Bread Pudding. Looking forward to trying a soup. This place may be small, but it is so worth dropping in and trying a delicious sweet. Another hidden gem." – Diane M.
Hours:
Mon: Closed
Tues – Fri: 9AM – 4PM
Sat: 9AM – 5PM
Sun: 9AM – 2PM
Black Olive Diner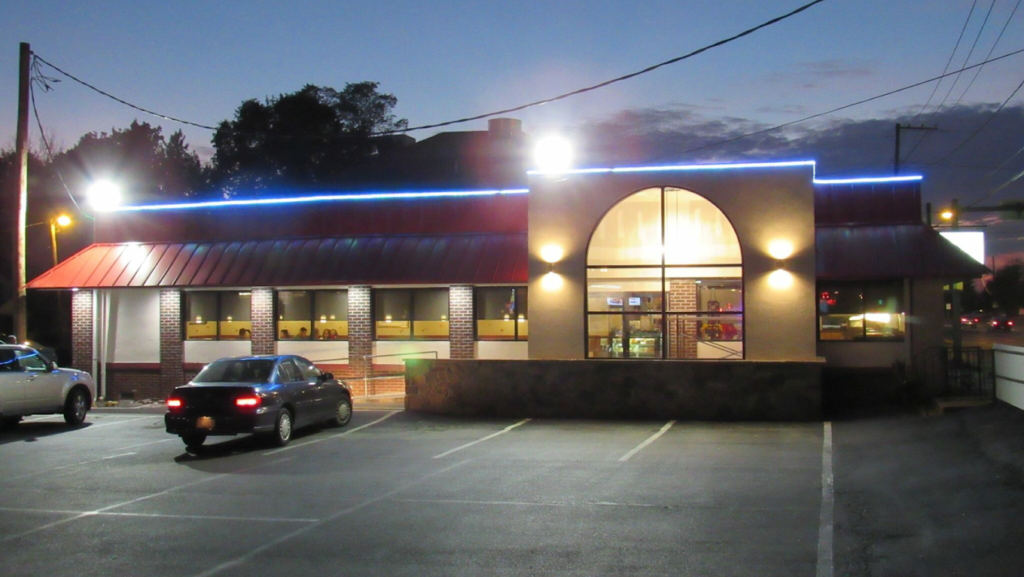 If you're like me and love a classic eggs, toast, home fries, and bacon breakfast, piled high – they've got you covered! Plus, because they serve breakfast all day – you can enjoy it in the middle of a Tuesday afternoon. The Black Olive Diner is Columbia's premier diner, serving signature pancakes, specialty omelets, breakfast sandwiches, and more. Some featured items include the Black Olive Mile High pancakes which includes three pancakes, topped with bananas, strawberries, dried cranberries, walnuts, and finished off with whipped cream. Also featured on their menu is their Country Omelet made with ham, bacon, sausage, peppers, onions, and tomatoes, all with a side of toast and home fries. Stop by the Black Olive Diner and grab yourself some breakfast – You won't regret it!
Recent Review: "Great food, great service! First time there, it was such a great experience we went the next night too! Very delicious food and huge portions! They are open later hours than other local places too. Go check this place out!" – Cory I.
Hours:
6AM – 11PM all week
Coffee and Cream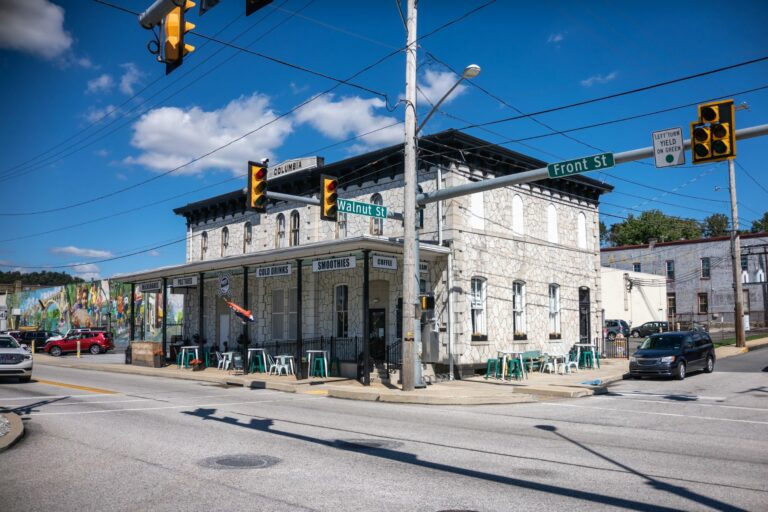 Next we have the incredible Coffee and Cream. This small cafe that used to be a Pennsylvania Railroad Passenger Station is nestled right on the edge of Columbia by the Susquehanna River. Coffee and Cream is where you can get some of the best breakfast food in Columbia. You can find things like baked oatmeal, quiche, loaded hash browns, various baked goods, delicious coffee, and the best biscuits and gravy around. Not to mention, most of the menu is made fresh from scratch! Stop by Coffee and Cream, grab a coffee and some delicious biscuits and gravy, and enjoy a beautiful view of the Susquehanna River.
Recent Review: "Breakfast sandwich is giant and oozing with cheese. Killer quiche. Danish was the stuff of blueberry dreams and enough for 2. Great coffee and espresso served by just the friendliest staff. Looks simple but it's simply excellent." – Brandon H.
Hours:
Mon – Fri: 7AM – 2PM
Sat – Sun: 7AM – 6PM
Griddles Malt Shoppe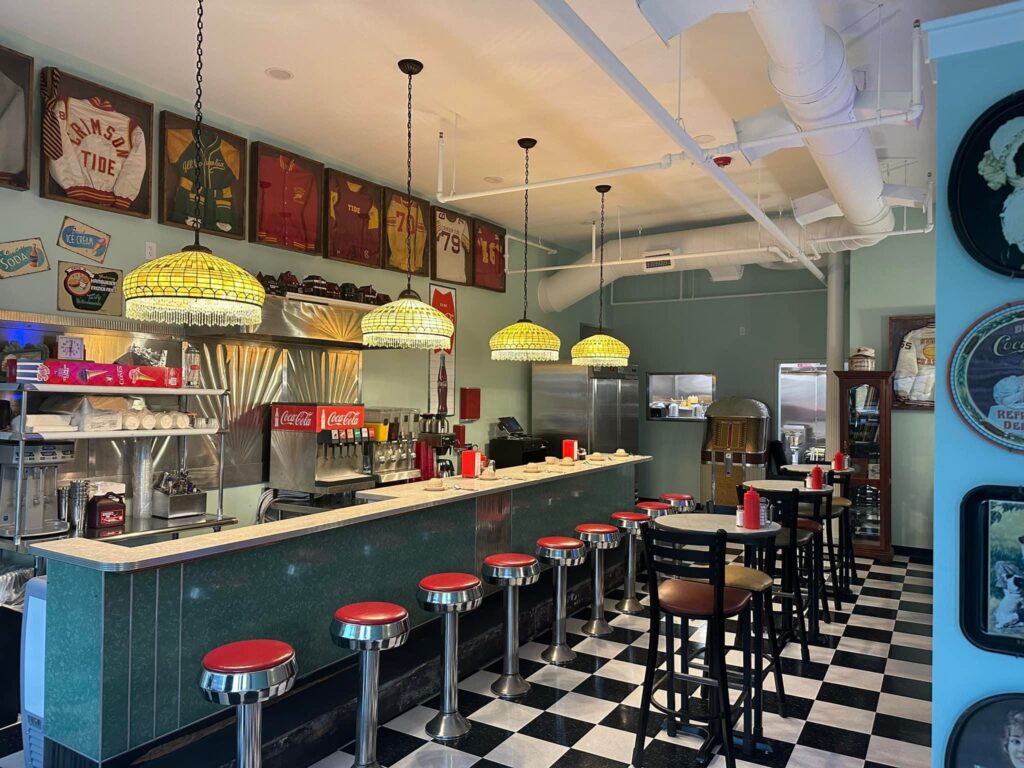 Lastly we have the newest restaurant in beautiful Columbia, Griddles Malt Shoppe. Providing a beautiful 50's style diner atmosphere and classic malt shoppe menu, Griddles is currently serving both breakfast and lunch. Some of their featured breakfast items include classic breakfast meals like pancakes, eggs and home fries, omelets, and breakfast sandwiches. Stop by Griddles and be transported back in time and enjoy the classic 50's style diner atmosphere and delicious breakfast!
Hours:
Mon: Closed
Tues – Sat: 7AM – 3PM
Sun: 7AM – 12PM
While Columbia has so many great places to grab breakfast, it also has so many more wonderful things waiting for you to uncover. Come Discover Columbia!