Built to replace the old oak planked lockup that was torn down in 1836 were six cells that were constructed under the original market house of 1814. The market house above had government offices, market house and schoolroom. Each cell contained a cot to sleep on, a bench, a bucket of water to wash in, and another bucket for toilet purposes.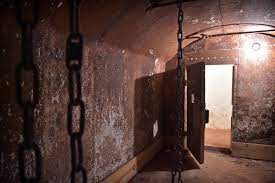 A few famous persons spent the night in Columbia's lock up and not voluntarily either. One of those was John L. Sullivan, the Boston Strong Boy and Heavy Weight Champion bared knuckle fighter from 1882-1892.
He visited Columbia several times with boxing exhibitions. It is said in 1893, during a brief stay, he became roaring drunk and had to be cooled off overnight in the dungeon.
When he returned a year later, a newspaper stated, "His eye was clear, and his walk was steady and sprightly. His general appearance is much better than a year ago" Lancaster New Era January 24, 1894.
In the early days of automobile travel, when speeding was anything over 20 miles per hour, Constable Campbell flagged down one 20 miles per hour offender and had him slowed down to zero in a choice cell. Upon interrogation discovered the indignant prisoner was none other than Thomas Alva Edison, famed inventor of electric lighting, electric car and phonograph.
By legend, High Constable Campbell, is noted for removing the grates and sliding the drunks into cells from the sidewalk on busy Saturday night thus saving many steps and grabbing many more "Customers" than otherwise possible.
Closed by the Board of Health in the early 1900's the cells were then used by the farmers to store their produce to sell on market days.
Book a visit the Chris Vera – Market House manager today!